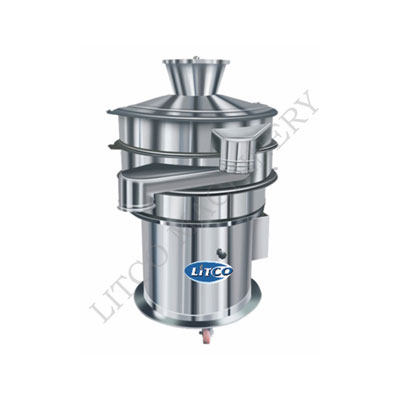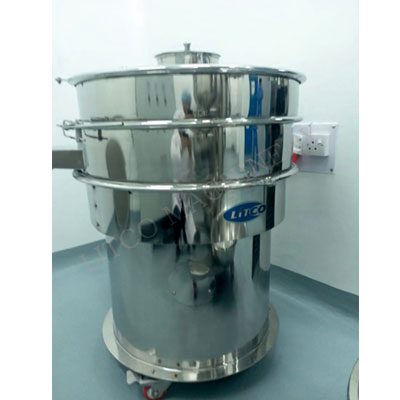 Vibro sifters manufactured by LITCO are circular symmetric spiral screens with a wide range of applications for separating mass composition of solids from solids, liquid from solids, and gradation of materials according to particle size. These are easy-to-use segregating machinery widely used in the industry.
Working Principle Of Fluid Bed Dryer
The segregation takes place by vibrating the screens in three separate planes along the vertical axis with a specially built vibratory motor with off-centered weights at the top and bottom of the motor shaft. The top weight creates horizontal vibration, which causes the material to move across the screen toward the edges of the machinery. The machine is tilted as a result of the lesser weight, causing vibration in the vertical tangential axis.
Variable control of the screening pattern is provided by the angle of lead of the lower weight in reference to the top weight. As a result, the material flows across the screens as well as vertically and tangentially, allowing for maximum screening. "LITCO Sift" is offered in a variety of screen sizes (mesh) and with the option of multiple deck separation.
Special Features:
cGMP model with all contact parts SS 316 with Mirror finish and non-Contact parts with SS 304 in Matt finish.
Dust free design with low noise level.
Trolley based design with PU castor wheels for the ease of movement.
Easy dismantling, cleaning & assembling through quick opening clamps.
Specially designed FLP or non-FLP Vibro-motor design as requirement.
Electric power requirement less than other machine of the kind in the industries & lower energy
Special requirement like brushing arrangements, SS lid with charging port and spring-loaded outlets
Wide range of screen sizes 4-300 Mesh.
Double & Triple deck screens with outlet and hopper for bottom deck available on request.
Available in various models providing screening diameter of 12′, 20′, 30′, 36′, 48′, 72′ etc.
TECHNICAL SPECIFICATIONS
MODEL
LITCOSIFT-20
LITCOSIFT-30
LITCOSIFT-48
Screens
SS 304/SS316
SS 304/SS316
SS 304/SS316
Screen Dia.
508mm
762mm
1200mm
Capacity/ Hour
20 TO 140 Kgs
30 TO 200 Kgs
200 to 400 Kgs
Charging Height
1110mm
1250mm
1340mm
Discharging Height
690mm
790mm
850mm
Electric Motor
0.25 HP with Special Vibratory Motor
0.5 HP with Special Vibratory Motor
1.5 HP with Special Vibratory Motor
Net Weight (Approx.)
150Kgs
200 Kgs
350 Kgs
Gross Weight (Approx.)
200 Kgs
260 Kgs
420 Kgs