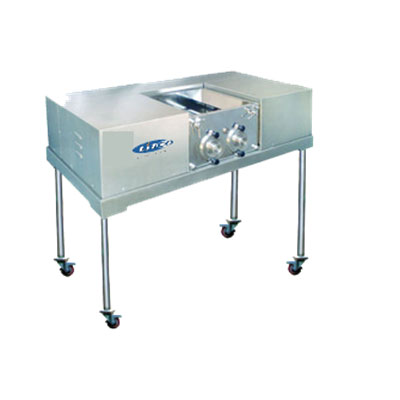 LITCO manufactures Oscillating Granulator which granulation machine used widely in the Pharmaceutical, Ayurvedic and Food Industry. Oscillating granulators are used for delicately homogenizing, size reduction, grading, and sieving dry, sensitive powders and granules. It is a well-liked granulating device for its compactness and efficiency for size reduction or creating the desired granule sizes from moist powder material or for breaking dried block stock, delicate powders, and granules. By improving the flowability and manipulation of the grains, oscillating granulators enhance their quality.
Working Principle Of Rapid Mixer Granulator
The Oscillating Granulator consists of one enclosed rotor which rotates along a horizontal axis. One screen with the mesh size as desired is installed at the bottom of the rotor. This mesh is easy to remove and reinstall of different mesh size. Material falls on the rotor blade after being loaded from the top through the infeed hopper. A series of oscillating rotors breaks down the particles as it rotates from side to side. As the material is forced through the screen mesh, the rotor's sharp edges, oscillating motion, and successive pressure of the product on the screen allow the granular material to be reduced in size.
Special Features:
All contact part made of SS 316 and non-contact parts SS 304 as per GMP standard.
Sturdy and durable.
Easy to operate / clean / maintain.
Double Stirrer both model available for output concern.
Noise level minimum with high output.
Continuous oscillating stirrers drive.
Simple screen holding and tensioning device.
Screen – Available in different size / durable / cost effective.
Easy Integration in Automatic Granulation Line
Flameproof electrical components are available at an extra cost.
TECHNICAL SPECIFICATIONS
MODEL
LOG-100
LOG-250
LOG-500
Gross Capacity
100 KG
250 KG
500 KG
Oscillating Speed
110 per min
180 per min
180 per min
MIXER MOTOR
1.5 HP
2 HP
2 X 2HP
LITCO manufactures Granulation Line Machinery as per Customer's required Capacity apart from these Standard Models.