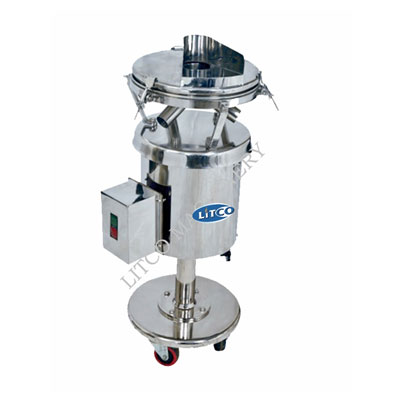 LITCO De-Duster is designed to dislodge deposited dust particles and extract all loose dust from the surface of compressed tablets. Surface dust is a persistent problem with compressed tablets and create problems at sealing either at Blister or Strip packing machine. Hence, it is essential to remove the dust before it goes for sealing.
Special Features:
GMP Model and Maintenance free unit.
For Cleaning or Sterilisation or for change over, all parts can be easily dismantled without any tools with no time.
Vibration can be controlled by a simple knob.
Tablet conveying route is so geometrically designed for impingement of tablets on their burrs which can break easily.
Efficient de-burring and de-dusting and full suction output is concentrated on de-dusting zone for flushing out powder
Most of the parts are made of SS 304 Material, SS 316 material can be supplied on demand with extra cost.
Height of machine can be adjusted according to required discharge height.
TECHNICAL SPECIFICATIONS
MODEL
LM-DD-01
Output
3,50,000 Tabs/ Hour
Max. Tablet Dia.
40 mm
Min. Tablet Dia.
3 mm
Power
0.25 HP
Height Adjustment
Min. 800 mm to Max 930 mm
Overall Dimension
400 mm X 800 mm X 930 mm