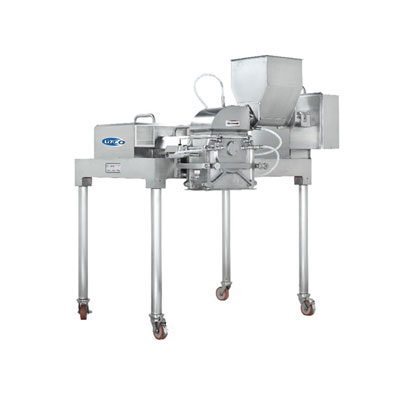 Communiting Mills manufactured by LITCO are compact, portable high speed mills specifically designed for wet and dry granulation, pulverization, dispersion of products found in the Granulation Line for Pharmaceutical, Chemical, Ayurvedic and Food Industries.
The sheering is done with special attachments called beaters which have Knife/Impact blades fixed on the rotor. The product is fed into the hopper which slides down to the enclosed chamber of beaters. The beating granulates the material and passes it through the required mesh of micron size, into the product container below. A wide range of screens and designed beaters are available according to the required output.
 The Output of the Communiting Mill is governed by three factors:-
Shape of Beaters(Knife/Impact Blades)
Screen Sizes
Speed of rotation of the beaters
Special Features:
All contact part made of SS 316 and non-contact parts of SS 304 as per cGMP standard.
Suitable for dry and wet granules.
Little downtime for reversing beater assembly from knife type to impact forward vice-versa
Beaters with knife edges & impact edges & scrapper blades.
Avaialble in plain or water-jacketed models which facilitiates processing of heat sensitive material.
Higher output with process uniformity.
All contact parts can easily be dismantled and cleaned for change of product for easy maintenance.
 Castor provided for the ease of mobility
Different size of screen / speed / number of blade / direction of rotation of blade can be selected.
VFD for variable speed of rotor. (Optional)
TECHNICAL SPECIFICATIONS
MODEL
LITCO COMMUNITING MILL
Output*
25 to 300 Kg/Hr.
Screens
 Round /Square Hole perforated SS sheet Woven SS Wire mesh
Beaters
Fixed Blades (SS with Knife & Impact Edges)
Rotor Speeds
1000-2250-4500 RPM
MOC
·All Contact Parts SS316 ·All Non-Contact Parts SS304
Electric Motor
5.5KW/1440 RPM, AC, 440V, 50Hz
Power Supply
440v 50Hz/60Hz. 3 Phase.
Starter
DoI Type
*Depends on Particle & Screen LITCO manufactures Granulation Line Machinery as per Customer's required Capacity apart from these Standard Models.