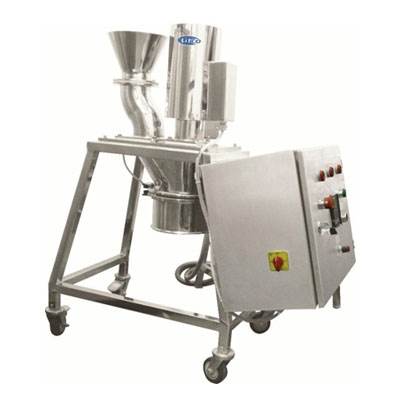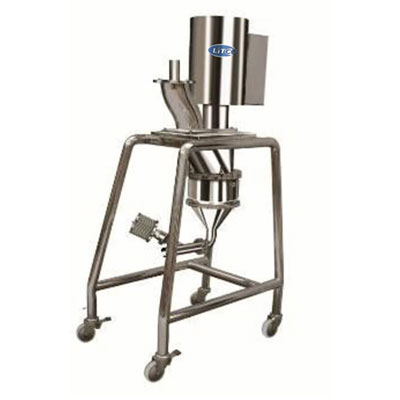 Co Mill designed by LITCO is a great solution for the Granulation Line Pharmaceutical, Ayurvedic, Food and Cosmetic Industry. The Co Mill is used to reduce the average particle size and increase homogeneity and dosage uniformity. It is mainly used for milling dry and wet materials. The Granules can be sized into the required size with the help of the screen. It is very useful when granulating rejected Tablets and capsules into powder form.
Working Principle Of Double Cone Blender
The Co Mill consists of a Conical Sieve with a rotating Impeller inside it. The material to be granulated is fed from the top into the Mill. The material is pushed outward by the revolving impeller to a conical screen surface(screen of size as required), where it is sized and passes through the screen's holes. Once complete, the item simply drops through the milling chamber and into a container below.
Special Features:
All contact part made of SS 316 and non-contact parts SS 304 as per GMP standard.
Dust free design with low noise level.
Mill is suitable for standalone as well Inline Milling operation through pneumatic conveying system.
Detachable sieve design to accommodate users requirements
Butterfly Valve to control the material feeding.
Trolley based design with PU castor wheels for the ease of movement.
Vacuum Rated Design can also be made for Automatic Vacuum Transfer.
Milling chamber having sensor for safety of operation
As per customer requirement machine will be provided with AC Drive.
TECHNICAL SPECIFICATIONS
MODEL
LITCO MILL
Output*
100 to 300 Kg/Hr.
MOC

·All Contact Parts SS316

·All Non-Contact Parts SS304

Electric Motor
3HP/5HP/1440 RPM, AC, 440V, 50Hz
Power Supply
440v 50Hz/60Hz. 3 Phase.
Starter
DoI Type

*Depends on Mill Sieve & Material

LITCO manufactures Granulation Line Machinery as per Customer's required Capacity apart from these Standard Models.