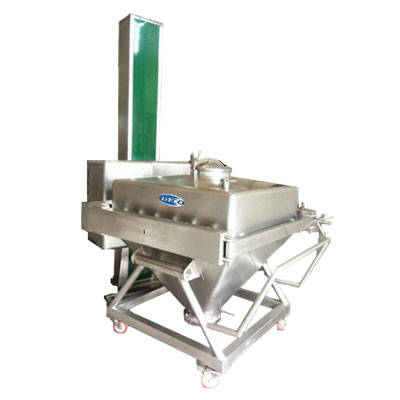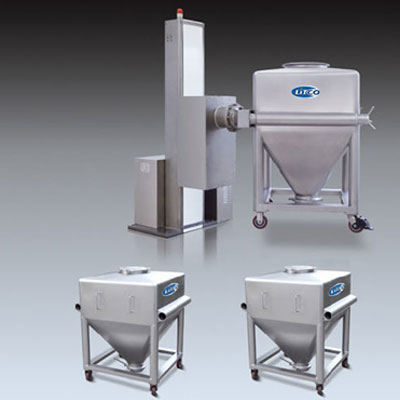 Bin Blender designed by LITCO fulfills all the requirements from the Granulation Line especially for an Automated Vacuum rated design. The Bin Blender Machine with its IPC Bin and automatic lifting and lowering mechanism is highly efficient and well appreciated in the Pharmaceutical, Ayurvedic, Food and Cosmetic Industry. Its modular design allows for easy handling, charging and discharging of material. It can be manufacture for a volume ranging from 2.5 Litres to 10,000 Litres.
Working Principle Of Double Cone Blender
The Bin Blender has a pillar type design which the bin can be placed and locked in the Blender arm. The Blender is then hydraulically lifted and rotated for blending. After the blending is complete the bin is again lowered and placed on the trolley. The Pillar type design also allows the blended material to be discharged into another container or bin.
IPC Bin Blending/Lifting Machine
Base foundation design hence no breaking of false ceiling for fixing the lifter.
Occupies very less space.
Tapered roller bearing for effortless manual rotation.
Hydraulic lifting & lowering system.
Positioning arm customized as per client's room layout and requirements.
IPC containers of different sizes can be loaded on the same lifter.
Mobile IPC lifters can be taken anywhere in the plant for different applications.
Lifting, lowering speed can be adjusted.
Control panel provided on the machine.
Hydraulic power pack kept on the service floor or inside the base itself.
Special Features:
All contact part made of SS 316 and non-contact parts SS 304 as per GMP standard.
Capacity ranging from 2.5L to 10,000L.
Same blender can be design for multiple interchangeable bin fixing facility
The major benefit of pillar type blender is you can have an option to discharge the blended material in to another drum or bin.
Self-Positioning sensor can be provided
Bin have three level safety interlock switches, one is for zero position, second is for blending position and third is for Maximum Ht. Limit
Vacuum Rated Design can also be made for Automatic Transfer.
Fixed or Loose trolley can be provided
As per customer requirement machine will be provided with AC Drive.