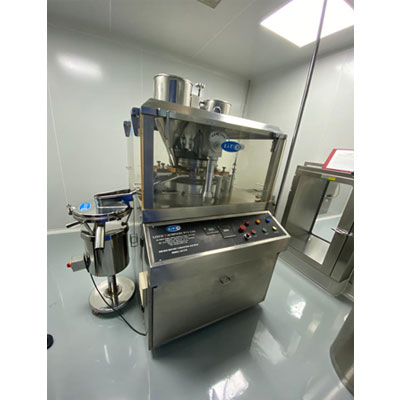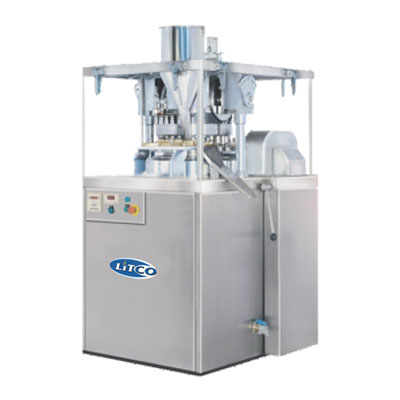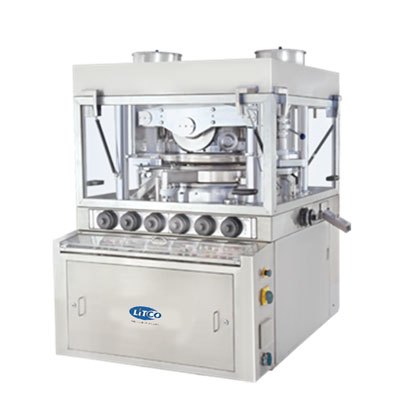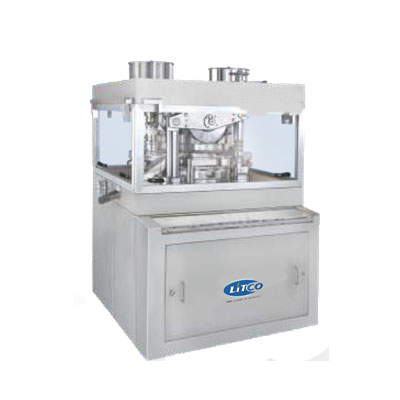 LITCO has designed and manufactures a wide range of Tablet Press Machine used widely in the Pharmaceutical, Ayurvedic and Cosmetic Industry with high productivity and efficiency. The Tablet Press Machine is the most critical in the Granulation Line as it forms the Tablets from the powdery material.
In essence, a tableting machine is a device that produces tablets of various sizes and forms. It has the ability to change from powder to tablet form. Although they also have other uses, these tablet press machines are mostly used in the pharmaceutical business to create medicinal tablets. Making tablets out of various cleaning goods and those for the cosmetics business can both benefit from the usage of a tablet compression machine.
The types of Tablet Press machine varies with it's tool and die design. 'B' and 'D' tooling are the most commonly used Tablet Press machines used in the industry. The Tablet Press machine can also vary in terms of Output points with Single Sided Rotary machines and Double-Sided Rotary machines. In Double Sided Rotary Tablet Press machines output is much higher.
LITCO offers a number of variations and models based on Customer's Requirement which are widely appreciated for its high productivity, output and easy operation.
Special Features:
All contact part made of SS 316 as per GMP standard.
Lower guard of polished Stainless Steel
Effective dust extraction nozzles.
Aluminium turret guard.
Imported needle roller bearing provided at the bottom of turret
Paint free tablet manufacturing zone
Electronic digital tablet cum RPM counter
AC Variable Frequency Drive for main motor and feeder motor.
Faster lower punch loading reducing changeover time.
TECHNICAL SPECIFICATIONS
MODEL
LT-16D
LT-20D
LT-27D
LT-45BB
LT II-45B
LT II-61BB
LT IV-55B
LT IV-75BB
  Tooling
D
D
D
BB
B
BB
B
BB
No. of Stations
16
20
27
45
45
61
55
75
No. of Sides
Single
Single
Double
Double
Double
Double
Double
Double
  MOC
·All Contact Parts SS316 ·All Non-Contact Parts SS304
·All Contact Parts SS316 ·All Non-Contact Parts SS304
·All Contact Parts SS316 ·All Non-Contact Parts SS304
·All Contact Parts SS316 ·All Non-Contact Parts SS304
·All Contact Parts SS316 ·All Non-Contact Parts SS304
·All Contact Parts SS316 ·All Non-Contact Parts SS304
·All Contact Parts SS316 ·All Non-Contact Parts SS304
·All Contact Parts SS316 ·All Non-Contact Parts SS304
Max Output (Tablet/Hr.)
40,300
50,400
1,36,080
2,26,800
2,28,000
4,39,200
3,96,000
5,40,000
Max Operating Pressure
10 T
10 T
10 T
6.5 T
6.5 T
6.5 T
65 KN
65  KN
  Max Tablet Dia.
23 mm
23 mm
23 mm
11 mm
16 mm
11.1 mm
16 mm
11.1 mm
  Total Power
2 KW
2 KW
4 KW
4 KW
7 KW
7 KW
8.75 KW
8.75 KW
We also produce Tablet Press Machines of Models:- LT-12 , LT-35B , LT II-37D, LT II-55B, LT IV-45D, LT IV-61B