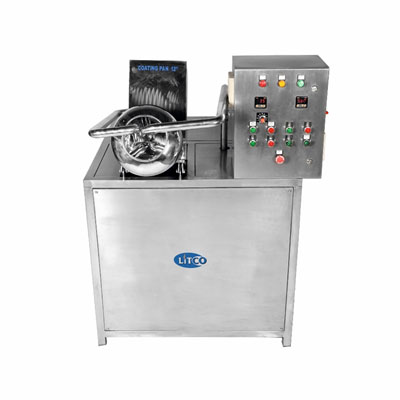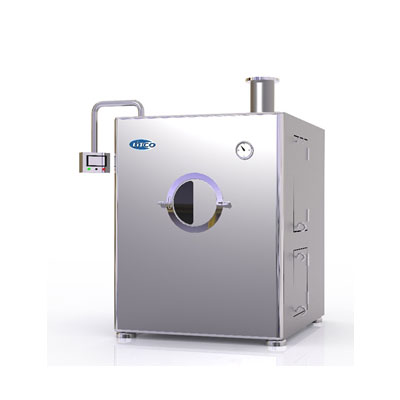 Tablet Auto Coaters are widely used and important machinery in the Tablet Production line using which tablets, pills, candies, granules, sweets are coated with sugar film, an organic film, and aqueous coating in the Pharmaceutical and Food Processing Industry. LITCO COATER is an automated tablet coating system for efficient film and / or sugar coating of tablets with cGMP compliance in closed condition.
Working Principle Of Litco Tablet Auto Coater
The primary Pan unit consists of a perforated cylindrical pan with conical ends enclosed in a Stainless Steel double-walled container. The coated tablets are loaded into the pan. Coating fluids are sprayed (film coating) through several Airborne Spray Guns positioned in the pan during the coating operation. The sugar syrup can also be dispensed through the front orifice using the dosing mechanism. For accurate distribution of coating fluids or sugar syrup, a peristaltic pump is used. With the help of mixing baffles mounted inside, the tablet bed is softly and efficiently mixed during pan rotation. The coated tablet cores are dried using hot air from an Inlet AHU, which includes a heating system and sequential battery of EU-2, EU-4, EU-7 and EU-13 Micron filters. The final result is coating applied with non-contaminated, dust-free and optimized volumes of air, for producing uniformly coated tablet cores.
FEATURES
1.
Cylindrical Pan
LDCB-25AISI 316, Perforated 48″ / 915 mm. with 3 mm holes. Rotated by 5HP motor with a suitable gear box at 2 to12 through VFD.
2.
Baffles
50AISI 316, Rabbit Ear type alternately placed to ensure proper mixing and avoid any dead areas. Total 4 nos. of baffles are placed with in the Pan.
3.
Sensors
To sense measure and transduce temperature / pressure /flow measurement for display and / or regulatory-indication & interlock function.
4.
Sink
Collects wash water / solution during washing and enables rotating perforated pan / drum to run through collected wash water in sink. The latter is provided with pipe with valve assembly, for draining water after wash cycle.
5.
Coating application system
It contains 50Ltrs. AISI 316/ 304 (Non-contact) Solution vessels with a pneumatically oscillating agitator mounted on top lid for Solution holding
6.
Spray Guns
Spray System USA make 2 nos. 1 mm needle with provision for setting span of the spray.
7.
Tank weigh system (optional)
Tank will be mounted on electronic platform balance connected to the PLC for monitoring spray rate by weight.
8.
Peristaltic Pump
Electrically operated peristaltic pump is incorporated in the unit. The Silicon Tubing passes through the pump, of which one end is dipped into the solution tank and the other end is connected to coating / or dosing manifold.