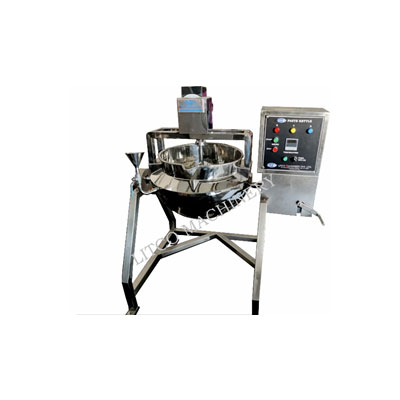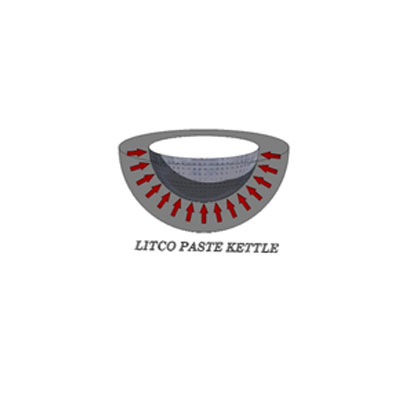 Correct mixing with homogenization is of epitome importance when it comes to the various range of products required in the Pharmaceuticals, Chemicals, Food and Cosmetics industry. The Paste Kettle is the perfect machinery for paste preparation which is an important aspect in the Granulation Line. The Paste Kettle is a universally accepted machinery which delivers homogeneous and uniform mixing and paste preparation, thereby leading to the formation of the required product.
The LITCO Paste Kettle also known as Starch Paste Kettle confirms to all cGMP norms promising the desired result of paste preparation that will help you obtain your desired product.
Working Principle Of Paste Kettle
The kettle has a unique design comprising of a jacketed hemispherical bowl. Steam is passed through the jacket in order to melt the product into paste. The agitator from the top aids to the homogeneous mixing of the paste which results in the formation of a homogeneous paste suitable for further drying and processing in the Granulation Line. The kettle is also supported by a special tilting design which helps the produced paste to discharge with ease.
Special Features:
All contact part made of SS 316 as per GMP standard.
Hemispherical design for proper mixing paste.
Jacket provided with steam/thermic/fluid heating arrangement.
Driven via motor and gear box assembly mounted on top.
Tilting arrangement for kettle is provided for discharge for starch
paste.
Heating insulation provided to avoid heat loss.
Anchor type impeller design for proper mixing of paste.
Safe earthing system.
Available in Size from 50 to 250 Litres.
TECHNICAL SPECIFICATIONS
MODEL
LPK-50
LPK-100
LPK-200
LPK-250
  Capacity
50 Litres.
100 Litres.
200 Litres.
250 Litres.
Gross Capacity
60 Litres.
120 Litres.
220 Litres.
280 Litres.
  MOC
·All Contact Parts SS316 ·All Non-Contact Parts SS304
·All Contact Parts SS316 ·All Non-Contact Parts SS304
·All Contact Parts SS316 ·All Non-Contact Parts SS304
·All Contact Parts SS316 ·All Non-Contact Parts SS304
Jacket Material
Water
Water
Water
Water
Heating Element
Electrical Heater
Electrical Heater
Electrical Heater
Electrical Heater
  Material of Insulation
Glass Wool
Glass Wool
Glass Wool
Glass Wool
  Insulation
50 MM
50 MM
50 MM
50 MM
Agitator
Top Fixed Anchor Type
Top Fixed Anchor Type
Top Fixed Anchor Type
Top Fixed Anchor Type
Temperature Sensor
SS PT100/PT110 Sensor
SS PT100/PT 110 Sensor
SS PT100/PT 110 Sensor
SS PT100/PT 110 Sensor
  Motor 
0.5 HP, 1440 RPM, TEFC, ISI make motor
1 HP, 1440 RPM, TEFC, ISI make motor
1 HP, 1440 RPM, TEFC, ISI make motor
1 HP, 1440 RPM, TEFC, ISI make motor
Power Supply
415 V / 50 Hz/3 Ph/AC
415 V / 50 Hz/3 Ph/AC
415 V / 50 Hz/3 Ph/AC
415 V / 50 Hz/3 Ph/AC
  Gear box  
15 RPM – OUTPUT CPEC /
15 RPM – OUTPUT CPEC /
15 RPM – OUTPUT CPEC /
15 RPM – OUTPUT CPEC /
A.C. Drive
As per Customer's requirement
As per Customer's requirement
As per Customer's requirement
As per Customer's requirement
  Control Panel
Standard with Push Button
Standard with Push Button
Standard with Push Button
Standard with Push Button
    Mounting Structure
·SS-304 Structure with Square Pipe ·Mechanism enclosed in elegant cabinet
·SS-304 Structure with Square Pipe ·Mechanism enclosed in elegant cabinet
·SS-304 Structure with Square Pipe ·Mechanism enclosed in elegant cabinet
·SS-304 Structure with Square Pipe ·Mechanism enclosed in elegant cabinet
Tilting Mechanism
Front Worm Type Tilting Mechanism
Front Worm Type Tilting Mechanism
Front Worm Type Tilting Mechanism
Front Worm Type Tilting Mechanism
  Surface Finish
Mirror Finish
Mirror Finish
Mirror Finish
Mirror Finish