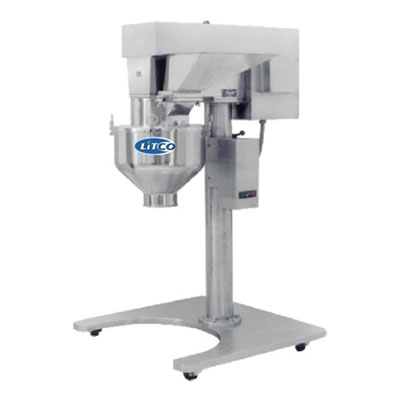 Multimills are compact, portable high speed sheering machine used for granulation, pulverizing and shredding, dry and wet materials in the Granulation Line. The sheering is done with special attachments called beaters which have Knife/Impact blades rotating within a selected screen for the required size reduction. The variable force of the beaters forces the material to be granulated and the surrounding screen limits the size. The processed material finally gets collected in the container provided at the bottom. The Output of the Multimill is governed by three factors:-
Shape of Beaters(Knife/Impact Blades)
Screen Sizes
Speed of rotation of the beaters
Multimills are highly economical and efficient machinery for granulation and pulverization used widely in the pharmaceutical, chemical, cosmetic and food processing industry.
Special Features:
All contact part made of SS 316 and non-contact parts of SS 304 as per cGMP standard.
 Suitable for dry and wet granules.
Sieves available in sizes of 0.5 to 12mm hole dia.
Beaters with knife edges & impact edges & scrapper blades.
Higher output with process uniformity.
All contact parts can easily be dismantled and cleaned for change of product for easy maintenance.
 Castor provided for the ease of mobility
Different size of screen / speed / number of blade / direction of rotation of blade can be selected.
VFD for variable speed of rotor. (Optional)
TECHNICAL SPECIFICATIONS
MODEL
LITCO MULTI MILL
Output*
50 to 200 Kg/Hr.
Screen Dimension
260 mm Dia. X 135 mm Ht.
Rotor Dia.
250 mm (approx.)
Beaters
12 Knife/ Impact edges & 2 Scraper Blades
Rotor Speeds
750/1500/2300/3000 RPM
MOC
·All Contact Parts SS316 ·All Non-Contact Parts SS304
Electric Motor
3HP/1440 RPM, AC, 440V, 50Hz
Power Supply
440v 50Hz/60Hz. 3 Phase.
Starter
DoI Type
Charging Height
1445 mm
Discharge Height
750 mm
*Depends on Particle & Screen LITCO manufactures Granulation Line Machinery as per Customer's required Capacity apart from these Standard Models.