Rubber Bung Processor Cum Sterilizer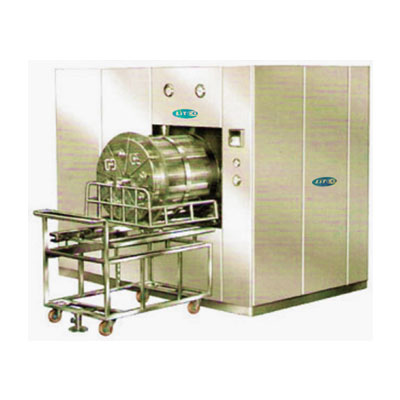 Rubber Bung Processor cum Sterilizers are used in the Pharmaceutical and other allied Industries to sterilize and secure the Rubber Stoppers that are used to close the Vials. The Rubber Bungs are the only other surface where the sterile liquid or powder material in the Vials is to come in contact, so it becomes of high importance to properly treat the Rubber Bungs before placing them.
The Rubber Bung cum Sterilizer is the perfect solution to this problem which is fully automatic and equipped with multiple features to cleanse the Rubber Bungs of any unwanted pyrogens or micro-organisms that can contaminate the stored solution. The main purpose of the sterilizer is to wash, sterilize, and dry rubber bungs using purified water, detergent, W.F.I., steam, and compressed air. Sterilization steam that has been saturated and given the necessary pre- and post-sterilization vacuum pulses.
The following processes takes place in the Rubber Bung Processor:-
Washing
Rinsing
Siliconization
Sterilization
Drying
A silicone emulsion or oil is used to siliconize the rubber bungs. To avoid any interaction between the closure and the drug contained, siliconization of the closure is required to stop the release of plasticizers and other compounds added during the compounding of elastomeric closures.
Multiple programs can be selected in this type of Sterilizer including H.P.H.V. Cycle.
The revolving carriage is loaded with rubber bungs in a non-sterile, clean location. The carriage is unloaded in a clean, sterile location, preferably with a laminar flow clean air module, when the procedure is finished. The carriage is opened, and bungs are thrown into sterile plastic bags while being surrounded by fresh air. After that, the bags are carefully sealed.
Special Features:
cGMP model with all contact parts SS 316 and non-Contact parts with SS 304 including the basic frame.
Compact modular design requiring no manual operation.
Temperature resistant food grade silicone Gasket with sliding doors.
HEPA Filter with Laminar Air flow both at supply and exhaust can be provided.
Easy to handle and operate moving trolley for loading and unloading.
Digital Temperature Controller for temperature regulation.
Steam Traps for Condensate removal.
 Multiple process programs including Bung Processing Cycle, Standard Cycle, H.P.H.V. Cycle, Bowie – Dick Cycle & Vacuum Leak Test Cycle.
PLC with HMI Touchscreen with CFR 21 Part 11 complied with SCADA for fully Automatic Control & Processing.