Automatic Injectable Dry Powder Filling & Rubber Stoppering Machine
Home / Automatic Injectable Dry Powder Filling & Rubber Stoppering Machine
Automatic Injectable Dry Powder Filling & Rubber Stoppering Machine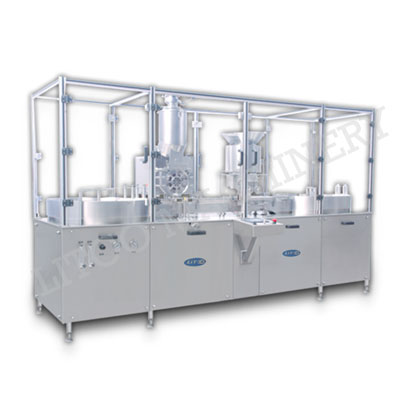 LITCO's Automatic High Speed Injectable Dry Powder Filling & Stoppering Machine is a compact, versatile and dual featured machine which fulfills the requirement of Pharmaceutical and allied Industries with high output. Machine is designed and equipped to fill Vials with Injectable Dry powder with good flowability and suitable bulk density. Thereafter the Vials are proceeded into the Stoppering Section where Rubbers are placed to close the Vial mouths. The Machine can be extended to two filling units and two hoppers for multiple dozing yielding higher output.  The machine is equipped with an Infeed Turn Table for intermittent and smooth feeding of the Vials under the filling ports. The entire unit is covered and enclosed in a glass/acrylic cover to prevent contamination.
The operation is servo-based that executes intermittent filling which ensures high filling accuracy and production. The Rubber Stoppering is done by a Roller for full Rubber bunging around an intermittently rotating star wheel. The Rubber Bungs are loaded in a Vibratory Chute from where, they are fed onto the Vial heads. The machine is designed for operation in sterile area and for use under Laminar Flow Protection to ensure zero Contamination and sterility.
Special Features:
CGMP model with all contact parts SS 316 and non-Contact parts with SS 304 including the basic frame.
Compact design requires less space area and manpower.
No Vial – No filling System.
No Vial Machine Stop System.
Co-Eccentric nozzles allow very quick and precise setting and making unit compact and manageable.
Laminar Air Flow on top with Glass Cover for ensuring minimum contamination
± 1% Filling Accuracy on single dose
Minimum change over time, from one size of container or fill size to another
Each important individual part required for autoclaving/sterilization can be removed easily
Safety guard and glass cover for operation in secured and controlled environment.
Digital Vial Counter for counting production output
Machine height can be adjusted to match with other machines so as to synchronize with each other efficiently
Provided Pure Air filter for Air & Vacuum
PLC with HMI Touchscreen with CFR 21 Part 11 complied with SCADA for fully Automatic Control & Processing

TECHNICAL SPECIFICATIONS
MODEL
LIPFR-120
LIPFR-250
Production Rate*
25 to 120 Vials/min
60 to 240 Vials/min
Direction of M/C**
Left to Right
Left to Right
Filling Range***
50 to 1500 mg on single dose
50 to 1500 mg on single dose
Vial Size
5 to 30 mL
5 to 30 mL
Rubber Stopper
20mm
20mm
Filling Accuracy
±1%
±1%
Electrical Characteristics
5-6 KW/ 3 Phase/ 50 Hz
5-6 KW/ 3 Phase/ 50 Hz
Working Height
850-900mm (Adjustable)
850-900mm (Adjustable)

* Depends on Vial size, nature of powder's bulk density and flowability

** We can supply as per customer requirements.

*** With help of change parts.