Automatic Eye/Ear Drop Filling, Plugging & Capping Machine
Home / Automatic Eye/Ear Drop Filling, Plugging & Capping Machine
Automatic Eye/Ear Drop Filling, Plugging & Capping Machine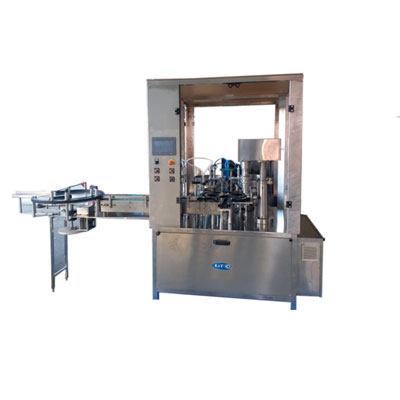 LITCO manufactures Automatic Eye/Ear Drop Liquid Filling, Inner Plugging and Screw Capping Machine is a compact, versatile and multi-featured packaging machinery used for filling Eye/Ear drop solution in Vials, widely used in Pharmaceutical, Homeopathic/Unani and Ayurvedic Industry. It covers all three parts of packaging thereby saving time and manpower for the user.
This automated system uses a three-stage indexing mechanism to carry out the steps of filling, inner plugging, and screw capping in a certain order. To provide a secure working area, all three operating stations are enclosed in a single acrylic cabinet. Four reciprocating nozzles make up the filling station, which uses a peristaltic pump to aid in dosing. The pneumatic plug pressing unit, vibratory inner plug feeding apparatus, and pneumatic cap installation mechanism make up the inner plugging station. Vibratory screw cap feeding equipment and a cap screwing unit with rotating heads make up a screw cap sealing station.
Machine manufactured by LITCO is highly efficient for filling Eye/Ear drops which require controlled environment and with great efficiency. It can be adjusted seamlessly with a Turn Table for feeding the Vials and the Vial Labelling Machine after completion of packaging.
Special Features:
All contact parts are made of SS 316 and non-contact parts SS 304 GMP Model.
Peristaltic pump assisted filling ensures accuracy of + 0.5 %..
No Bottle/ No Plug / No Cap Machine stop System
No bottle – No fill/ No plug – No cap/ No bottle – No plug system.
Rigid vibration free construction for trouble free performance.
S.S. Elegantly matt finished body.
Unique for small volumes filling for Eye/Ear/Nasal drops.
Smooth & efficient Filling-Inner Plugging & Screw Capping operations in one star wheel.
Pneumatic inner plug pressing & cup placement.
Screw capping heads is designed to apply adequate torque.
Equipped with torque limiter to protect indexing mechanism.
Inbuilt protection against over current, voltage fluctuation, short circuit in A/c frequency drive.
PLC with HMI Touchscreen with CFR 21 Part 11 complied with SCADA for fully Automatic Control & Processing (Optional).
TECHNICAL SPECIFICATIONS
MODEL
LAFPC-100
Output/Hour*
4800-6000
Direction of Movement
Left to Right
Number of Head (Filling)*
2/4
Number of Head (Inner Plug)
2
Number of Head (Screw Capping)
2
Filling Range*
2 to 50 ml
Power Consumption
3-4KW
Height of Conveyor**
850-910

*Varies as per Vial Volume

**Can be adjusted as per requirement

LITCO manufactures Customised Injectable Packaging Line as per Requirement.