Automatic Sterilizing Or Depyrogenation Tunnel
Home / Automatic Sterilizing Or Depyrogenation Tunnel
Automatic Sterilizing Or Depyrogenation Tunnel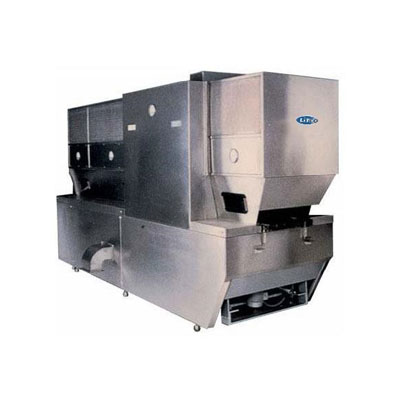 The Automatic Sterilizing or Depyrogenation Tunnel is an ISO CLASS 5 continuous sterilizer in an automated system that uses dry heat to sterilize and dehydrate clean empty glassware (Vials, Ampoules & Bottles) used in pharmaceutical product packaging, with the help of forced convection of filtered air through a high efficiency particulate air filter.
The sterilization and depyrogenation process is dependent on choosing cycle periods and temperature exposures that will sterilize or dehydrate the glassware to a tolerable low probability degree of contamination, without negatively compromising the product's specifications. This system uses HEPA-filtered air as the medium for forced convection heating at high temperatures. Additionally, this machine is made to handle bottles of various sizes without the need for replacement components.
The Tunnel has three zones
Drying or Pre-heating Zone
Blowers in this zone push fresh air down onto the containers through the HEPA filter after it has passed through the Separate AHU air pre-filters. The washed containers are dried in this zone.
Sterilizing or Heating Zone
The Containers in this zone are heated up to a temperature of 350ºC in the sterilizing zone and kept there for a certain amount of time. The Vials will be sterile and dehydrated as a result killing off the pyrogens and other unwanted micro-organisms.
Stabilizing or Cooling zone
In the cooling zone, hot Bottles are cooled down to the room temperature as the air coming out of the hot zone. At the same time, the zone's length has been planned to prevent heat strains on the bottles' surfaces so as to prevent cracking or damage.
The modular design of the Sterilizing Tunnel ensures compact and efficient Sterilization from one Zone to another along a single Horizontal Loop Conveyor with lateral guidance by means of vertical slats on either size. Hence, this is why it can handle bottles of different sizes without the need for change over parts.
Special Features:
cGMP model with all contact parts SS 316 and non-Contact parts with SS 304 including the basic frame.
Compact modular design requiring no manual operation.
Reduction of Endotoxin up to 3 log.
Adjustable Conveyor Speed with lateral guide for containers.
HEPA Filter (EU-14 Grade) and Pre-filter (EU-7 Grade) for all Laminar flows.
Differential Pressure monitoring systems for all filters.
 Differential Pressure monitoring systems between zones.
 Supply and Exhaust AHU System in Double Skin modular construction
 Multiple Inter-locking safety features with Alarm tests
PLC with HMI Touchscreen with CFR 21 Part 11 complied with SCADA for fully Automatic Control & Processing.