Online Ampoule & Vial Inspection Machine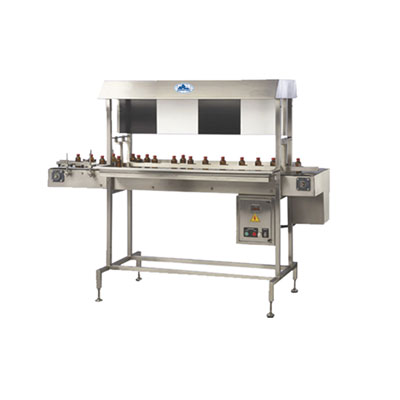 LITCO's Online Ampoule & Vial Inspection Machine is a highly user-friendly and efficient unit for inspection of Packaged Ampoules/Vials in the Auto Injectable Line used in the Pharmaceutical, Beverages Industry. The Vials/Ampoules are delivered via the central conveyor belt from the conveyor of the capping machine. The two adjacent conveyor belts and the side tables for the operators seated on each side of the table automatically divide the Vials into two halves. The operators take up the vials one at a time and visually scan each vial against an alternate background of white and black to look for any particles in the liquid that has been filled, sealed, or broken. The middle track is where the Vials are placed after inspection before being transported for labelling.
Special Features:
A/C Frequency Drive adjust speed as per operator skill.
PVC black & white board visualization of particle.
PLC Self lubrication guide made from UHMW below rotating chain.
Adjustable height of conveyor belt, to align with other machine of the line.
Both side pedestal bearing for easy operating.
Rigid SS square pipe structure for trouble free performance.
SS elegantly matt finishing Body.
TECHNICAL SPECIFICATIONS
MODEL
LVI-100
LVI-150
LVI-200
Output/Min*
30 to 60 Vials
60 to 120 Vials
100 to 200 Vials
Conveyor Length
3 Ft. Length
6 Ft. Length
8 Ft. Length
No. of Operator
Two (1 x 1 Two side seated)
Four (2 x 2 Two side seated)
Six (3 x 3, Two side seated)
Direction of M/C**
Left to Right
Left to Right
Left to Right
Total Power Consumption**
1 KW
1 KW
1 KW
Working Height (Adjustable)
850 to 910mm
850 to 910mm
850 to 910mm

* Depends on bottle size & operator speed.

** We can supply as per customer requirements.