Automatic Monoblock Vial Filling & Rubber Stoppering Machine
Home / Automatic Monoblock Vial Filling & Rubber Stoppering Machine
Automatic Monoblock Vial Filling & Rubber Stoppering Machine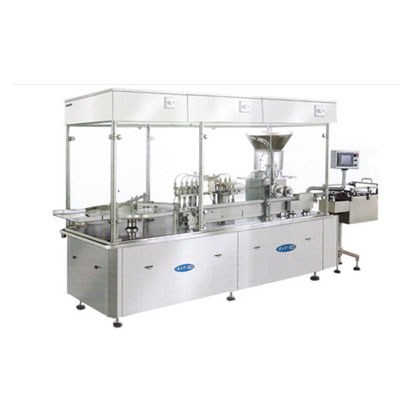 Automatic Monoblock Vial Filling & Rubber Stoppering Machine developed by LITCO is the perfect solution for a compact, multi-featured and efficient packaging machine for the Pharmaceutical and Chemical Industries. Its dual feature of filling and rubber bunging with high output not only makes it operationally useful but also occupies lesser space and manpower for the user.
The operation is driven by a servo-based motor that executes intermittent filling linearly which ensures high filling accuracy and production. The filling is driven by Peristaltic Pumps or NRV Syringes as per requirement. The Rubber Stoppering is done by a Roller for full Rubber bunging around an intermittently rotating star wheel. The Rubber Bungs are loaded in a Vibratory Chute from where, they are fed onto the Vial heads. The machine is designed for operation in sterile area and for use under Laminar Flow Protection to ensure zero Contamination and sterility. An infeed Turn Table is also added to aid the smooth and automatic feeding of the bottle for filling. When filling, the adjustable nozzle will progressively ascend from the bottom level of the vial towards the neck in order to reduce foaming.
Special Features:
cGMP model with all contact parts SS 316 and non-Contact parts with SS 304 including the basic frame.
Compact design requires less space area and manpower.
No Vial – No filling System.
No Vial Machine Stop System.
Co-Eccentric nozzles allow very quick and precise setting and making unit compact and manageable.
Precision-built peristaltic valve system, lapped glass, and hand-crafted stainless steel holders were used to provide extremely high fill size accuracy and drip-proof performance. On the machine itself, precise setup and precision may be simply altered.
 Laminar Air Flow on top with Glass Cover for ensuring minimum contamination
 ± 0.5% Filling Accuracy on single dose
 Minimum change over time, from one size of container or fill size to another
Each important individual part required for autoclaving/sterilization can be removed easily
Safety guard and glass cover for operation in secured and controlled environment.
 Digital Vial Counter for counting production output
 Machine height can be adjusted to match with other machines so as to synchronize with each other efficiently
PLC with HMI Touchscreen with CFR 21 Part 11 complied with SCADA for fully Automatic Control & Processing.
TECHNICAL SPECIFICATIONS
MODEL
LPVFR
No. of Heads
4/6/8
Production Rate*
25 to 120 Vials/min
Direction of M/C**
Left to Right
Filling Range***
1 to 100 mL
Vial Specifications***
Dia.: Ø25mm to 65mm Height: 30mm to 150mm
Rubber Stopper
13mm, 20mm & 32mm
Filling Accuracy
±0.5-1%
Electrical Characteristics
5-6 KW/ 3 Phase/ 50 Hz
Working Height
850-900mm (Adjustable)
*   Depends on Vial size, nature of liquid & operator speed. ** We can supply as per customer requirements. *** With help of change parts.