Ampoule Filling & Sealing Machine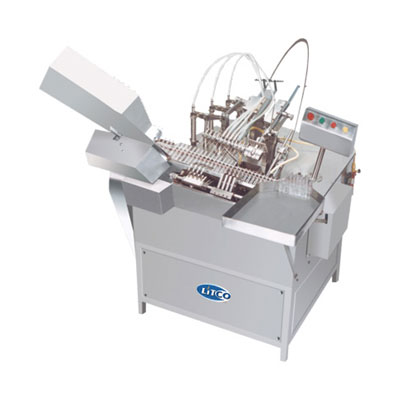 The Automatic Ampoule Filling and Sealing Machine designed by LITCO provides the perfect output required by the Pharmaceutical Industry in their packaging process. It is efficiently manufactured for filling Ampoules of 1ml to 10ml. This compact multi-functional machine performs both the filling and sealing operation thereby saving space and time for the customer.
Empty washed or sterilized ampoules are fed into Hopper from the left-hand side of the machine. Ampoules fed through feeding cassette move to the receiving rack. The moving rack which moves horizontally collects the next ampoules from the receiving rack and transfer the Ampoules to the machine in left to right in an inclined position through pre-gassing. Pre-gassing, Filling, Post Gassing, Pre-heating & sealing stations completes filling & sealing operations. Filled & sealed ampoules are collected automatically in SS tray in upright position without hand touch.
Special Features:
CGMP model with all contact parts SS 316 and non-Contact parts with SS 304 including the basic frame.
Minimum change overtime, from one size to another container or fill size.
Rigid vibration free construction for trouble free performance.
± 1 % Filling accuracy on single dose
Easy and suitable change over for quick part change
TECHNICAL SPECIFICATIONS
MODEL
LAFS-35
LAFS-55
LAFS-100
No. of Filling Head
Single
Two
Four
Output/Min.*
10 to 30 Ampoules
25 to 50 Ampoules
50 to 100 Ampoules
Ampoule Size**
1ml to 10ml
1ml to 10ml
1ml to 5ml
Power Specifications
0.5 HP, 3 Phase 50 Hz, 4 wire system
0.5 HP, 3 Phase 50 Hz, 4 wire system
1 HP, 3 Phase 50 Hz, 4 wire system
*   Depends on Ampoule size & operator speed. ** With help of change parts.