Automatic Vertical Airjet Cleaning Machine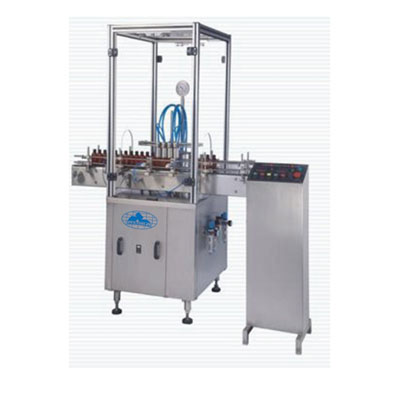 LITCO's Automatic Vertical Airjet Cleaning Machine is compact, versatile and highly efficient for cleaning Bottles in the Pharmaceutical, Food, Cosmetic and Chemical Industry. The Unit comes with a SS Slat Conveyor and Reciprocating Cleaning Nozzles. The automatic No Container No Cleaning System is an added feature for the machine.
Suitable for bottles of varied sizes it works on the principle of positive air pressure and vacuum cleaning, where reciprocating nozzles push air into the bottles and then remove the impurities by creating vacuum. The entire operation is driven by a Variable Frequency Drive for synchronized and seamless operation.
Special Features:
cGMP model with all contact parts SS 316 and non-Contact parts with SS 304 including the basic frame.
Suitable SS Pressure Gauge for monitoring air pressure system.
Easy Change over parts for decreased down time.
User-friendly operation and handling of the machine.
Facility to control air pressure and vacuum pressure cleaning.
Adjustable and diving type reciprocating cleaning nozzle
TECHNICAL SPECIFICATIONS
MODEL
AVAJC-100
AVAJC-150
Output/Hr.*
1000 to 5000 Bottles
4000 to 10000 Bottles
No. of Cleaning Nozzles
2
6
Direction of M/C**
Left to Right
Left to Right
Total Power Consumption**
2 KW
2 KW
Cleaning Cycle
Positive Air Pressure & Vacuum Cleaning
Positive Air Pressure & Vacuum Cleaning
Working Height
850 to 900mm
850 to 900mm
*   Depends on bottle size ** We can supply as per customer requirements.