Automatic Measuring/Dosing Cup Placement & Pressing Machine
Home / Automatic Measuring/Dosing Cup Placement & Pressing Machine
Automatic Measuring/Dosing Cup Placement & Pressing Machine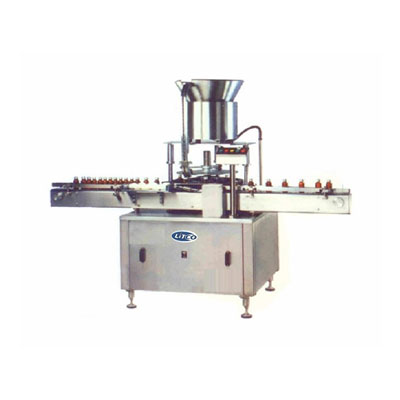 LITCO's Automatic Measuring/Dosing Cup Placement & Pressing Machine is an efficient Cup Placement machine on Bottle Caps part of Pharmaceutical, Chemical, Ayurvedic or Homeopathic/Unani Industries. It is mainly used with Bottles that require Measuring/Dosing Cup, thereby automating the process with high output. The machine is precision built with SS matte finishing designed for high throughput.
The sealed bottle picks up a dosing cup from the delivery chute of the bowl after the feed container moving along the conveyor belt is fed into an in-feed star wheel through an in-feed worm. The star wheel then brings the sealed container below the pressing plate, where the body and neck of the container are positioned. The pressing plate then presses the inner plug gradually and flawlessly.
Special Features:
cGMP model with all contact parts SS 316 and non-Contact parts with SS 304 including the basic frame.
No container no Cup system.
Single motor synchronizes conveyor, star wheel, & platform turret.
User-friendly operation and handling of the machine with low noise and power consumption.
Specially designed hopper is provided to increase storage capacity of bowl.
UHMW-PE self-lubricating guide profile for low friction wear surface, quiet conveying
Universal coupling for quick and easy setting of In-feed worm
TECHNICAL SPECIFICATIONS
MODEL
AMCPP-100
AMCPP-150
Output/Hr.*
3600 to 6000 Bottles
3600 to 9000 Bottles
Direction of M/C**
Left to Right
Left to Right
Total Power Consumption**
Main Motor
0.75 HP/220 Volts/ 50 Hz
0.75 HP/220 Volts/ 50 Hz
Cap Feeding Bowl
300 Watt Magnetic Coil
300 Watt Magnetic Coil
Working Height
850 to 900mm
850 to 900mm
*   Depends on bottle size ** We can supply as per customer requirements.