Automatic Monoblock Rotary Piston Filling & Sealing Machine
Home / Automatic Monoblock Rotary Piston Filling & Sealing Machine
Automatic Monoblock Rotary Piston Filling & Sealing Machine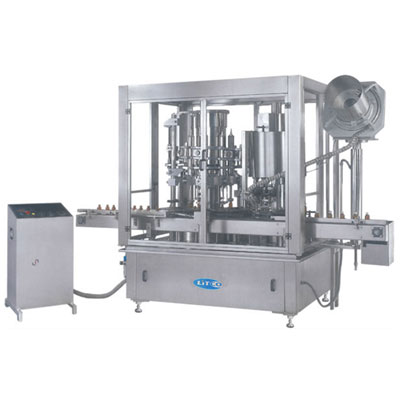 LITCO's Automatic Monoblock Rotary Piston Filling & Sealing Machine is a compact, versatile and multi-faceted machine. Its dual feature of filling and sealing with high output makes it a useful packaging machinery for the Pharmaceutical, Ayurvedic, Chemical, Food and Homeopathic Industry. Not only it provides high output and efficiency, but it saves manpower and space, as single operator can be deployed for entire operation.
It functions on the principle of Volumetric filling driven by pistons with rotary motion guiding the bottles through each operation. The main drive of the machine, conveyor drive & cap-feeding bowl consist of A/c Motor with synchronized variable A/c Frequency Drive which ensures smooth and integrated operation.
Working Operation
Containers travelling over a SS slat conveyor feed through a feed worm and an inlet star wheel below the filling nozzles. The filling station is made up of volumetric filling heads and a central rotating liquid reservoir tank. This reservoir tank receives constant external liquid supply whose level is automatically regulated by a float switch. After filling is completed, the containers are bought into the subsequent indexing part of sealing, where the bottle pick up cap from the delivery chute before positioning themselves below the rotating head. The head seamlessly threads and seals the bottles before it is guided to the next part via another rotating star wheel.
Special Features:
cGMP model with all contact parts SS 316 and non-Contact parts with SS 304 including the basic frame.
Compact design requires less space area and manpower
No Container – No filling and Sealing System.
No downtime in Volume settings due to Centralized Volume Adjustment
Adjustment screw that alters the volume of all the syringes simultaneously can be used to vary the fill volume.
Electronic liquid level controller and pneumatically controlled control valve
Immediate and efficient sealing of bottle within monoblock avoids dust other contamination
± 1% Filling Accuracy due to piston dosing
Automatic machine stop due to less caps in chute
Low friction wear surface, smooth and noiseless conveying due to Self-Lubricating UHMW – PE Guide profile
Safety guard and glass cover for operation in secured and controlled environment.
To prevent damaging caps during rotation and energy waste, additional sensors for the minimum and maximum level of caps in the chute are used to automatically start and stop the rotating cap feeder. (Optional)
Electronic Sensor at out feed for Bottle Jamming. (Optional)
PLC based Operation with HMI Touchscreen for automatic control and regulation
TECHNICAL SPECIFICATIONS
MODEL
ARPFC- 8/8
ARPFC 12/8
No. of Filling Head
Eight
Twelve
No. of Sealing Head
Eight
Eight
Production Rate*
4000-10000 Bottles/Hr.
6000-12000 Bottles/Hr.
Direction of M/C**
Left to Right
Left to Right
Filling Range***
60 to 200 mL
60 to 200 mL
Bottle Specifications***

Dia.: Ø22mm to 100mm

Height: 60mm to 250mm

Dia.: Ø22mm to 100mm

Height: 60mm to 250mm

Rubber Stopper
19-38mm
19-38mm
Filling Accuracy
±0.5-1%
±0.5-1%
Electrical Characteristics
5-6 KW/ 3 Phase/ 50 Hz
5-6 KW/ 3 Phase/ 50 Hz

* Depends on Bottle size, nature of liquid & operator speed.

** We can supply as per customer requirements.

*** With help of change parts.