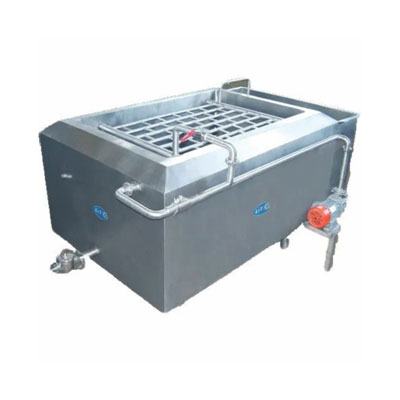 LITCO's Butter Melting Vat is a uniquely designed butter melting machine for the Food Processing Industry that allows large scale melting of butter. The machine due to its horizontal orientation can be made for large capacities with Stainless Steel structure. The Vat is equipped with a specially designed piping grid at the top which allows hot water to flow through it. This hot water is the one that heats up the butter kept on it so that it melts and falls into the Vessel.
The Vessel is also equipped with a drive assembly and stirrer which is slowly rotated in order to dissipate the heat and melt possible lumps of butter. The vessel is also provided with bottom and side jacket which further helps in the melting process if there is any remaining material in the vessel. A temperature sensor allows to monitor the temperature of the butter melting process.
As per Customer's requirement, a special Recirculation unit with a pump can also be provided to ensure thorough and homogeneous mixing of the butter. A CIP system along with the machine helps to maintain better sanitary standards.
TECHNICAL SPECIFICATIONS
MODEL
LITCO BUTTER MELTING VAT
Working Capacity
200 L to 1000 L
MOC
SS304/SS316
Heating Element
Hot Water
Agitator Assembly
Available
RPM
Fixed/Variable(as per Customer's req.)
Electric Motor*
0.25-2 H.P
Power Supply
440v/50Hz/3 Phase

*Depends on Capacity

LITCO manufactures required Capacity apart from these Standard Models.