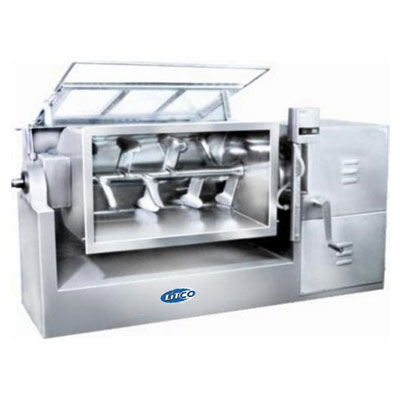 LITCO's Mass Mixture Machine has been well designed to facilitate thorough mixing of dry or damp material which is especially suitable for the Tablet Granulation Line in the Pharmaceutical, Cosmetic and Ayurvedic Industry. Mixing is one of the most important steps while production and an efficiently designed Mass Mixture fulfils the adequate mixing of damp or powdery material as required. The mixer is perfect for handling challenging or sticky components thanks to its robust feared drive and sturdy mixing paddle. LITCO manufactures Customised Mass Mixture Machines of required Capacity apart from Standard Models.
Working Principle Of Mass Mixture Machine
The Mass Mixture consists of mixing drum with specially designed mixing blades. The mixing is driven by the uniquely designed blades of the paddle which ensures thorough mixing by moving the material among itself. The paddle is driven by a motor and gearbox arrangement. At the output, a tilting mechanism is provided to ease the unloading of the mixed material.
Special Features:
All contact part made of SS 316 and non-Contact parts SS 304 or MS as per GMP standard.
Plastic hard cover provided to allow visual of mixing and ease of adding solution while the mixer is in motion.
Automatic Stop mechanism on opening the plastic cover to avoid accidents
Tilting Device provided to ease the unloading of the device
No outside particle enters the mixing drum due to a specially designed self-adjusting sealing system
Provision for lubrication of all moving parts(Optional)
TECHNICAL SPECIFICATIONS
MODEL
LMM-50
LMM-100
Capacity (Kg)
50
100
Over flow Capacity (Lt.)
110
220
Working Capacity (Lt.)
88
156
Speed of Stirrer*
35 RPM
35 RPM
Motor
3 HP, 440V, 50 Hz
5 HP, 440V, 50 Hz
*Can be adjusted as per Customer's requirement