Contra Rotary Mixing Vessel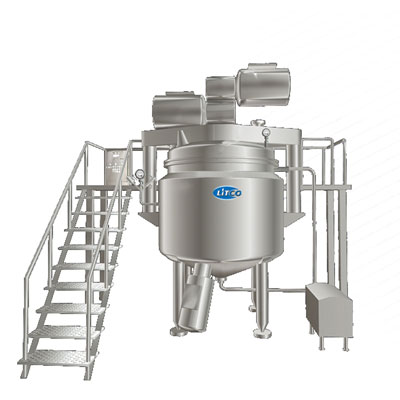 Contra Rotary Mixing Vessel manufactured by LITCO is a uniquely designed Mixing Vessel for high viscous fluids, used in the production of ointment, cream or toothpaste. LITCO's special design improves not only the Mixer's performance but at an affordable price. Customised Ointment Manufacturing Plant and Turnkey Projects developed by LITCO is one of the company's trademarks designed and manufactured projects and Clients are exceedingly satisfied by the features and the output of LITCO's Contra Rotary Mixer. The specially designed drive assembly not only reduces the space consumed but Clients can also select customised and specially designed Anchors.
Working Principle Of Contra Rotary Mixing Vessel
The Contra Rotary Mixing Vessel consists of a specially designed Anchor. The Anchor is designed for optimum mixing with two sets of blades inter-meshing and rotating against each other. The paddle type blades at the centre pushes the liquid out while the contrary blades rotating on the outside beats and scrapes the liquid. These two simultaneous motions in clockwise and anti-clockwise direction ensure quality mixing especially of viscous materials. The vessel is also specially designed to sustain the pressure and temperature of the material being scraped with steam/electrically heated jacket or insulation as per user's requirement.
Salient Features
All contact parts are made of SS 316 grade and non-contact parts SS 304..
Manufacturing vessels have opening arrangement of top dish hydraulically operated.
Top mounted mixer is with arrangement with SS 316 anchor with mirror polish along with PTFE arranged baffles/scrapper.
All the Vessels are CGMP standard (paint free construction).
Choice of various type of anchor design as per user's requirement.
Load Cell for fast & accurate measuring system of Filled Vessel quantity.
All pipelines are joined with Tri-clover ended Joints assuring safe and smooth transport.
The gaskets used are of Silicon (food grade) to avoid contamination.
All pipe, pipe-fittings and valves are SS 304/ SS316 grade as per Customer requirement.
The In-line Homogenizer or In-line Colloidal Mill provided as per Customer requirement.
Mechanical Seal is provided at the Stirrer Entry to prevent back-flow and contamination.
VFD for Anchor agitators to vary the RPM as per Recipe and required process.
At LITCO, we specialise in manufacturing Customised Contra Rotary Mixing Vessel & Ointment Mfg. Plants as per requirement. We also design customised model as per Customer's needs and limitations. Please drop in your requirements under our Contacts for further specifications and quotations.
TECHNICAL SPECIFICATIONS
MODEL
CONTIPRO-100
CONTIPRO-1000
CONTIPRO-2000
CONTPRO-5000
CONTIPRO-10000
Capacity
100 Litres.
1000 Litres.
2000 Litres.
5000 Litres.
10000 Litres.
Gross Capacity
120 Litres.
1200 Litres.
2400 Litres.
6000 Litres.
12000 Litres.

MOC

·All Contact Parts SS316

·All Non-Contact Parts SS304

·All Contact Parts SS316

·All Non-Contact Parts SS304

·All Contact Parts SS316

·All Non-Contact Parts SS304

·All Contact Parts SS316

·All Non-Contact Parts SS304

·All Contact Parts SS316

·All Non-Contact Parts SS304

Jacket Material
Water
Water
Water
Water
Water
Heating Element
Electrical/Steam Heater
Electrical/ Steam Heater
Electrical/ Steam Heater
Electrical/ Steam Heater
Electrical/ Steam Heater
Material of Insulation
Glass Wool
Glass Wool
Glass Wool
Glass Wool
Glass Wool
Insulation
50 MM
50 MM
50 MM
50 MM
50 MM
Agitator
Top/ Bottom Fixed Stirrer
Top/ Bottom Fixed Stirrer
Top/ Bottom Fixed Stirrer
Top/ Bottom Fixed Stirrer
Top/ Bottom Fixed Stirrer
Agitator Assembly
Hydraulically Operated
Hydraulically Operated
Hydraulically Operated
Hydraulically Operated
Hydraulically Operated
A.C. Drive
As per Customer requirement
As per Customer requirement
As per Customer requirement
As per Customer requirement
As per Customer requirement
*Other Capacity can be made as per Customer's Requirement