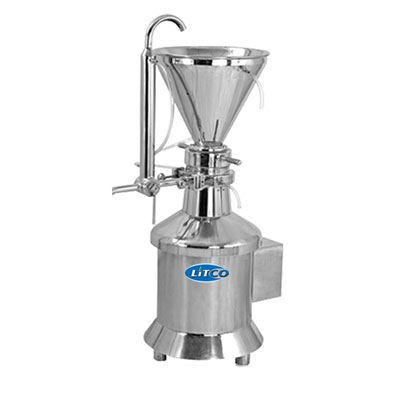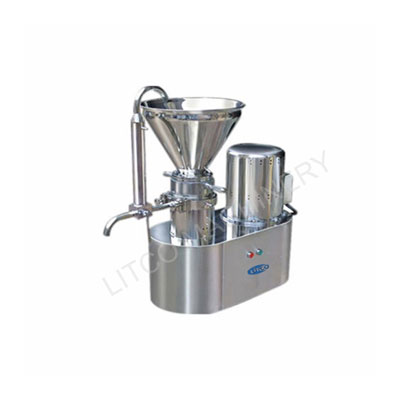 LITCO manufactured Colloid Mill is an efficiently designed machine used to reduce the particle size of a solid in suspension in a liquid, or to reduce the droplet size in emulsions. Colloid Mill can be placed online or separately, widely used in the food, Pharmaceutical and Cosmetic Industry.
Working Principle Of Colloid Mill
The Colloid Mill works on the principle of a homogenizer, where the liquid is converted to emulsified droplets by subjecting it to high hydraulic shear. A high-speed rotor pushes the fluid through a perforated stationary stator which causes intense mechanical shear. The newly formed emulsion or droplets are then collected for further processing. The size of the sheared particles can be varied as per requirement by changing the perforated stator.
Special Features:
All contact part made of SS 316/SS304 as per GMP standard.
Toothed Conical Rotor directly coupled with the motor shaft or with Belt.
Stator and Rotor Assembly is balanced and housed in the Stainless Steel Housing.
Extended Bearing Housing specially designed to facilitate fine adjustment of bearing clearances of backlash to avoid metal contact of Rotor in Belt
Model.
Three-way cock system for draining and recirculation of liquids provided as standard, in water-jacketed models.
Homogenizing upto 5-10 Microns.
TECHNICAL SPECIFICATIONS
MODEL
LCM-200
LCM-500
Machine Type
Vertical-D
Vertical-BD
Capacity
200-1000L
200-1200L
MOC
SS316/SS304
SS316/SS304
Size Reduction
5-10 Micron
5-10 Micron
Drive
Coupling
Belt
Motor
3 HP
5 HP