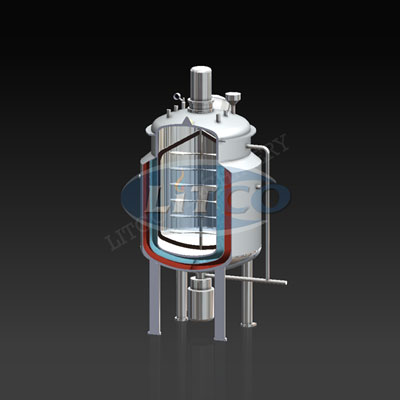 Jacketed Vessel developed by LITCO is uniquely designed and manufactured, maintaining all cGMP standards, accepted in all of Pharmaceutical, Ayurvedic, Chemical, Food and Homeopathic Industry. Jacketed Vessels are one of the critical units of any processing system where heating and mixing of materials can simultaneously be executed in large volume, yielding great output. Usually heating takes place with a water jacket or other suitable fluid can also be used. The water is heated with an electrical heater or with the help of steam, if available within its proximity.
The Jacketed Vessel is specially manufactured in SS 304/ SS 316/ SS 316L material with mirror or matte finishing from outside. The Inside of the Tank is mechanically polished with a RA 0.5 surface roughness. It is provided with a manhole, light glass, pressure gauges, safety valves, Clean-In-Place nozzle, Sterile-In-Place nozzle and other inlet and outlet nozzles as required. For CIP and SIP systems, the vessels are equipped with high quality spray balls for cleansing the residual material after each operation. The Jacket is insulated with glass wool to protect users from heat and accidents.
LITCO manufactures differently sized Jacketed Vessels as per Customer's requirements and as per System Process. The accessories of the Jacketed Vessels are also provided in SS 304/ SS 316/ SS 316L material ensuring contamination and corrosion free operation. The Vessels are sturdily designed to accommodate temperatures of up to 175ºC and pressure up to 6 Kg/cm2.
From Wax Phase Vessel to Water Phase Vessel, LITCO delivers Jacketed Vessels with Top or Bottom Entry stirrer. As per Client's requirement an Agitator of multiple design, Anchor type, propeller type, with Cowl Disc blades or any other can be provided. They can also be equipped with LITCO's own designed high shear homogenizer at the bottom for better mixing output. The Vessels are manufactured with the main focus on quality output with long life in strenuous working conditions.
Special Features:
All contact parts in SS 316 / SS 316 L and non-contact parts SS 304 quality Cgmp Standard Model.
High Durability and Strength.
Customised design ranging from 10L to 10000L.
Pressure Gauge/Safety Valves/Compounding Gauge and other Nozzle provisions.
CIP and SIP System as per requirement with high quality spray balls.
Outside Matte and inside and mechanically mirror polished with Ra 0.5.
Top or Bottom Entry Stirrer with Customised Agitator design as per requirement.
Can withstand temperatures of up to 175ºC and pressure up to 6 Kg/cm2