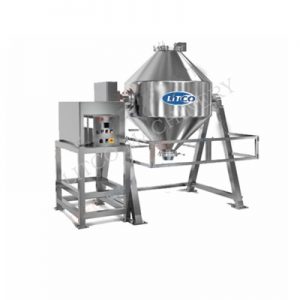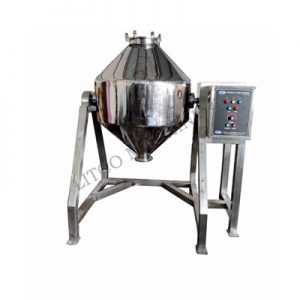 DOUBLE CONE BLENDER
Mixing and blending are one of the most vital operations in all of Pharmaceutical, Cosmetics and Food Processing industry. The Mixing of two different entities or ingredients leads to the formation of the new product that can be proceeded further in the Granulation Line. The Double Cone Blender manufactured by LITCO Machinery Pvt. Ltd. is a uniquely designed yet simple mixing machinery that can be used for the mixing of solids like granules. The machine also has a lot of operational flexibility and is simple to clean and maintain. The machine's functionality is further enhanced by its simple construction and GMP-compliant design.
WORKING PRINCIPLE OF DOUBLE CONE BLENDER
The Double Cone Blender is a smartly designed Shell with two cones as suggested by the name. The Mixing acts on the principle of gravity, as the Blender rotates the material inside topples down to the bottom and with another 90º rotation, the material again topples to the other side. In this way thorough, uniform and homogenized mixing of the materials take place. For added features, baffles are provided inside the shell, to increase the randomness of motion of the material, thereby increasing the rate of mixing. The Blender is rotated with a gear drive system that is capable of handling the dynamic load of the rotating body and mixture. A low RPM is maintained for best results.
Special Features:
All contact part made of SS 316 as per GMP standard.
The conical shape of both ends enables uniform mixing and easy discharge.
Manual rotating facility with hand wheel for inching. The same will be provided with ss cover & limit switch. ( In 200 Kgs. & above model )
Two nos. of safety road will be provided at back side. ( One LH side & one RH side )
Suitable size of Butterfly valve at one end of the cone provided for material discharge.
One shaft with 04 nos. of fixed buffers with mirror polished provided inside the cone.
Cone will be mirror polished from the inside & outside & structure will be matt polished.
Safety guards made from SS304 pipes provided in front of the m/c with limit switch.
Panel fabricated from SS304 material with facility of three phase indication, D.O.L. tarter, digital timer & Amp. Meter
As per customer requirement machine will be provided with left side drive or with right side drive.
TECHNICAL SPECIFICATIONS
MODEL
LDCB-10
LDCB-25
LDCB-50
LDCB-100
LDCB-150
LDCB-200
LDCB-250
LDCB-300
Volume/Lt.
10
50
100
200
300
400
500
600
Capacity/Kg.
10
25
50
100
150
200
250
300
Gross Volume
35
80
150
300
450
600
800
900
MIXER MOTOR
0.5 HP
1 HP
2 HP
3 HP
3 HP
3 HP
5 HP
5 HP
Gear Box
1.75"
1.75"
2"
3"
4"
4"
5"
5"
Safety Guard
NA
NA
Avail.
Avail.
Avail.
Avail.
Avail.
Avail.