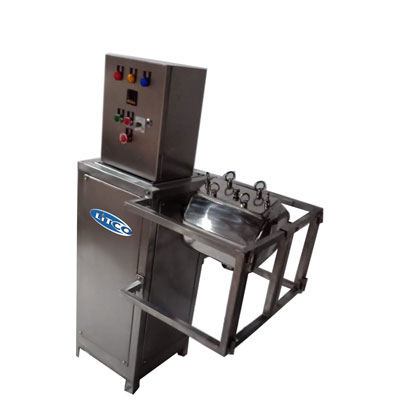 Octagonal Blender manufactured by LITCO is a sturdily designed and highly efficient blending machine used for Lab and R&D purposes in pilot scale. The Octagonal design fulfils the required purpose of blending different materials. The drum is provided with one charging and discharging ports with both sealed with food grade silicon gasket to avoid contamination and leakage. A safety rail is provided around the rotating drum for safe and secured operation of the machine. The Control Panel is set together for a compact design.
Special Features:
All contact part made of SS 316 and non-contact parts of SS 304 as per cGMP standard.
 The octagonal design enables uniform mixing and easy discharge.
Suitable size of Butterfly valve at one end of the cone provided for material discharge.
 Drum will be mirror polished from the inside & outside & structure will be matt polished.
Food grade seals to prevent leakage and contamination.
Safety guards made from SS304 pipes provided in front of the M/C for safety.
 Panel fabricated from SS304 material with facility of three phase indication, D.O.L. tarter, digital timer & Amp. Meter.
TECHNICAL SPECIFICATIONS
MODEL
LITCO MINI OB-12
Type
R&D
Capacity
5 KG
Gross Capacity
8 KG
Minimum Capacity
2 KG
Charging & Discharging Gasket
Silicon Food Grade
MOC
·All Contact Parts SS316 ·All Non-Contact Parts SS304
Electric Motor
0.50HP/1HP, AC, 440V, 50Hz
Power Supply
440v 50Hz/60Hz. 3 Phase.
Max torque at Continuous operation
52 N-m
Timer Adjustment
0 to 99 min.
Speed
2 Min. & 30 Max.
LITCO manufactures R&D Machinery and Granulation Line Machinery as per Customer's required Capacity apart from these Standard Models.