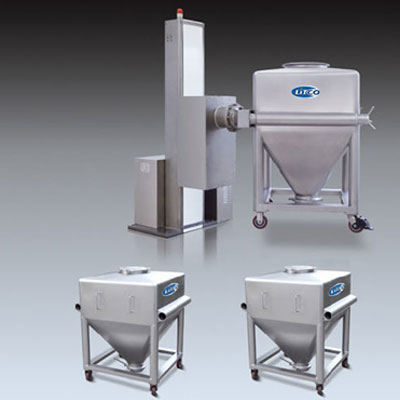 Mini Bin Blender manufactured by LITCO is a well-designed blender that fulfills the requirement for pilot or R&D scale production. It is designed to be compact, easily mobile and user friendly. By using a single quick-locking and quick-unlocking screw, the Bin Blender may be quickly and simply linked and detached from the machine's main drive. A highly effective, trouble-free gearbox with maximum torque is included with the primary motor drive. An electronic speed control allows the speed to be altered endlessly within the operating range of 2 and 45 RPM.
The appropriate RPM is digitally displayed and is controlled by an electronic speed controller. To configure time-based actions, the device also has a digital timer.
Special Features:
All contact part made of SS 316 as per GMP standard.
Less energy consumption & Short cycle times.
The Double Cone shape & slow speed of rotating gives sufficient continuous movement to the granules result in good quality.
Hygienic design-smooth interior for easy cleaning.
Butterfly Valve provided at the outlet point for easy and safe discharge.
Simple design requires minimum maintenance.
Easy loading and unloading of material.
TECHNICAL SPECIFICATIONS
MODEL
LITCO MINI BIN BLENDER
Type
R&D
Working Volume
1-3 KG
Gross Volume
5 KG
MOC

·All Contact Parts SS316

·All Non-Contact Parts SS304

Charging & Discharging Gaskets
Silicone Food Grade Type
Max. Output Torque at continuous Operation
52 N-m.
Speed
2-45 RPM
Motor
0.5 HP/ 230V/ 50 Hz / 1 Ph.
Power Supply
230 V/ 50 Hz/ 3 Ph
LITCO manufactures R&D Machinery & Granulation Line Machinery as per Customer's required Capacity apart from these Standard Models.