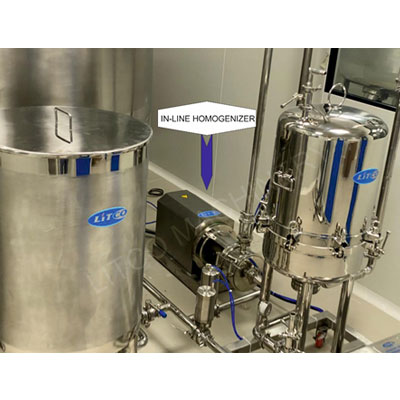 LITCO's Homogenizer is one of the trademark products introduced by the company which is widely appreciated in all of Pharmaceutical, Food and Cosmetic Industry. The Homogenizer is a highly efficient unit used to disintegrate and combine semi-liquid materials into one homogeneous phase of small particles. The homogenizer is one of the most important unit in a Liquid or Oil Manufacturing Plant as it helps to improve homogeneity and recirculates that material. LITCO manufactures Homogenizer as per Customer's required capacity.
Working Principle Of Homogenizer
The Homogenizer comprises of rotary toothed blades that beats and pushes the receiving material against a perforated stator. Through the stator emulsified homogeneous particles of the material is generated. It uses high-pressure and high-shear to force the material into one phase of state.
Special Features:
All contact part made of SS 316/SS304 as per GMP standard.
Toothed Rotor directly coupled with the motor shaft.
Stator and Rotor Assembly is balanced and housed in the Stainless-Steel Housing.
Mechanical Seal is provided to prevent leakage and contamination.
Can be placed anywhere In-vessel or In-line in an enclosed circuit.
Homogenizing upto 20 Microns.
High efficiency and flow rate.
Available in 1HP,2HP,3HP,7.5HP,10HP,15HP and 30 HP as per Customer's Requirement.