Bottle Ropp Capping Machine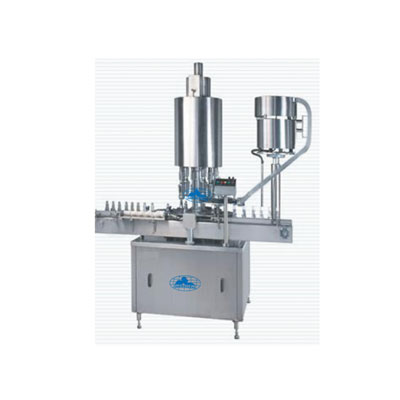 LITCO's Automatic Bottle ROPP Screw Capping Machine is a highly efficient and versatile unit of the Liquid Packaging Line used in the Pharmaceutical and Beverages Industry. It is a self-supported SS structure with height adjustable system. The machine is uniquely designed to increase productivity and at the same time avail easy cleaning, change of parts and maintenance. The noiseless machine comes with an automatic No Container No Cap Arrangement to prevent false production. It can cap up to 9000 Bottles per hour with the help of change parts depending upon the bottle size and shape.
Special Features:
No container no cap arrangement.
S.S. elegantly matt finished body.
Suitable for Round and Flat Glass Bottle (with help of change parts).
Adjustable height of conveyor belt, to align with other machine of the line.
Sealing pressure can be adjusted for different size of caps and gauges.
Low noise level, low power consumptions.
Self-lubricating UHMW-PE guide profile for low friction wears surface, smooth and noiseless conveying.
SS cladding or hard chrome plating of all outside parts to prevent against corrosion.
Adjustable bottle height gauge for easy and quick setting.
Universal coupling for quick and easy setting of In-feed worm.
Infeed Star Wheel is equipped with Safety Clutch for Automatic Stoppage of
Machine in case of Jamming and / or Over Loading
TECHNICAL SPECIFICATIONS
MODEL
LRCS
Output/Hr.*
2500-9000
Direction of M/C**
Clockwise
No. of Head
4/6/8
Total Power Consumption**
2 KW
Working Height (Adjustable)
850 to 900mm
Bottle Dia.(Round/Flat/Square) ***
Ø 25 mm to Ø80 mm
Container Height***
38 to 200mm
Cap Diameter***
25 mm to 80 mm

* Depends on bottle size & operator speed.

** We can supply as per customer requirements.

*** With help of change parts.